Gameplay Trailers, Xbox 360 Install, and PC Specs
Play Video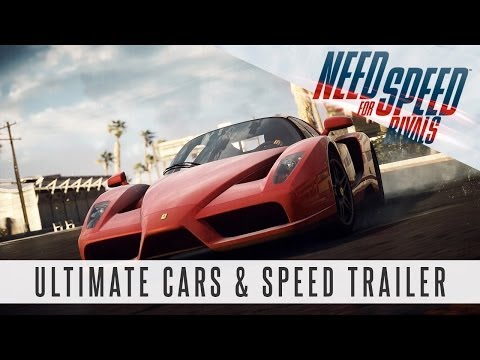 Need for Speed Rivals Trailer- Ultimate Cars, Speed and Rivalry
Zephyr and other racers risk it all as Cops cross the line in the ultimate Rivalry. Choose between Progression as a Cop or a Racer and see if you have what it takes to eliminate the competition in the ultimate cars, speed and rivalry.
Need for Speed Rivals Gameplay - AllDrive Feature
AllDrive seamlessly blends Singleplayer and Multiplayer creating an entirely new experience only available in Need for Speed Rivals. Starting in a single-player event, players can crash in-progress events with friends, then spontaneously confront Rival racers to risk their Speed Points in the ultimate racing experience.

Need for Speed Rivals Gameplay - Progression & Pursuit Tech Feature
It's time to face your Rival-- but you might want to come prepared. Choose to progress as either a cop or a racer in the ultimate rivalry using Pursuit Tech unlockable along the way. We're the nurturing kind, encouraging growth and strength. You're going to need the best to take out the best but good things don't come to those who wait. We'll make you work for it so don't let them get away.
Need for Speed Rivals Gameplay - Racer Personalization Feature
Who cares about beating them if you don't look good doing it? In Need for Speed Rivals you can personalize your car to have the look you want. We give you the tools necessary to take it to the next level and stylize your ride using a combination of colors, decals, performance tweaks, and pursuit tech. It's all about making it look like the set of wheels you've always dreamed of.
Xbox 360 InstalIation Information
Need for Speed Rivals on the Xbox 360 requires an Xbox 360 Hard Drive with 3GB of storage space for a mandatory installation of game disc content. you will be prompted to perform this installation the first time time you boot up your game.

You cannot play your game without this installation, nor can it be installed on flash memory sticks, or internal flash memory--such as the internal memory of the Xbox 360 Slim, or 4GB model. Hard Drives are available and sold separately for the Xbox 360 Slim/4GB, Arcade, and Core consoles.
MINIMUM System Requirements
OS: Windows Vista (SP2)
CPU: Intel 2.4 GHz Core 2 Duo, AMD 2.6 GHz Athlon X2
RAM: At least 4 GB
DISC DRIVE: CD/DVD ROM drive required for installation only
HARD DRIVE: At least 30 GB of free space
VIDEO: AMD Radeon 3870 512Mb or better, NVIDIA GeForce 8800 GT 512 Mb or better, IntelHD 4000 integrated 512Mb or better
DIRECTX: DirectX 10.1 compatible
INPUT: Keyboard and mouse
ONLINE CONNECTION REQUIREMENTS: 512 Kbps or faster internet connection
RECOMMENDED System Requirements
OS: Windows 8 64-bit
CPU: Intel Quad Core CPU, AMD Duo Core CPU
RAM: At least 8 GB
DISC DRIVE: CD/DVD ROM drive required for installation only
HARD DRIVE: At least 30 GB of free space
VIDEO: AMD Radeon 7870 3Gb or better, NVIDIA GeForce GT660 3Gb or better
DIRECTX: DirectX 11 compatible
INPUT: Keyboard and mouse
ONLINE CONNECTION REQUIREMENTS: 512 Kbps or faster internet connection